Publicado por Lara Reis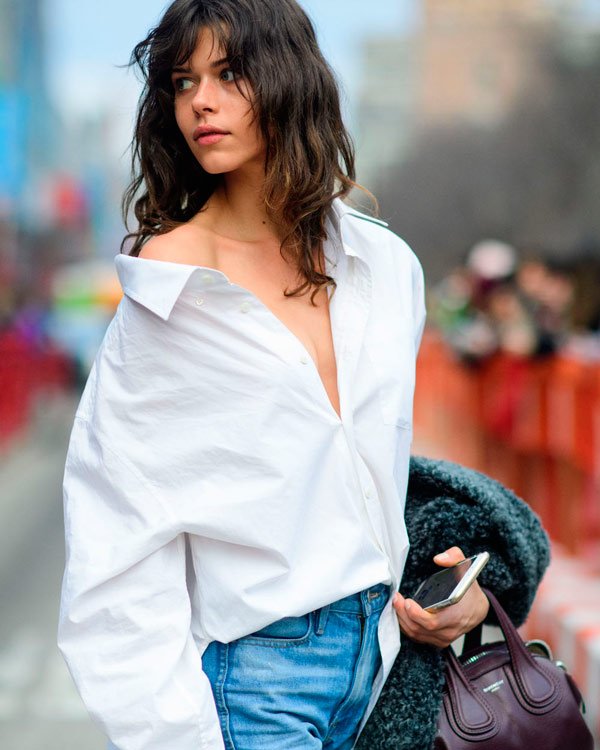 Fonte: Google
A camisa social branca sempre foi vista como uma peça chave e essencial no guarda-roupa masculino. Entretanto, depois de revoluções e mudanças extremamente inovadoras e importantíssimas no mundo da moda no início do século XX, o estilo de alfaiataria finalmente chegou para ficar no vestuário das mulheres. É impressionante como uma peça tão simples e básica pode tornar qualquer combinação mais clássica, elegante e ao mesmo tempo, tão despojada.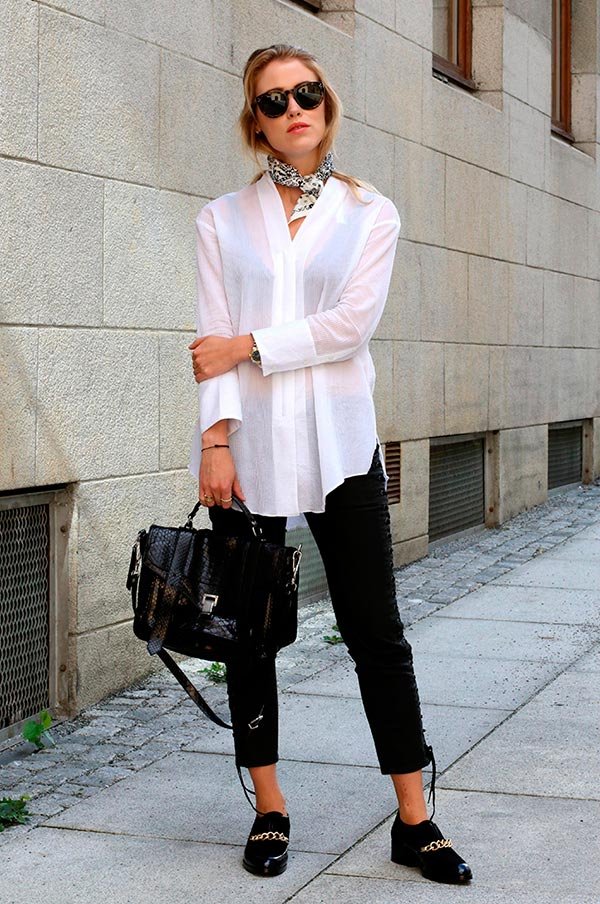 A camisa social mais tradicional, por mais seriedade que traga, acaba transformando qualquer look em um visual mais atemporal.
O aspecto casual chic da clássica camisa social branca junto com a contemporânea calça jeans boyfriend destroyed dobradinha na barra, forma uma combinação muito interessante em um contraste de ótimo equilíbrio entre os estilos das duas peças! Um scarpin preto ou nude fecham o look com chave de ouro, alongando o visual e complementando o classicismo da camisa, não predominando sob a o moderno jeans rasgado.
A camisa social, principalmente na cor branca, deve ser vista como uma peça coringa, uma das peças mais essenciais no guarda-roupa de quem ama um visual mais elegante e básico, simultaneamente.
Adorei essa combinação de camisa branca + saia midi xadrez + sandália de pompom! Um look super fashionista, clássico e moderno!
O uso de croppeds bem justinhos por cima da camisa branca a complementam com um ar mais
girlie
e despojado.
E quem disse que a clássica e prática camisa social não combina com um bom e velho tênis mais casual? Seja um Vans ou um All Star cano médio, o tênis com seu estilo mais despojado, contraste muito bem com a elegância da camisa, montando um look super confortável, prático e elegante!
Ah, tenho uma super novidade para vocês! A loja online
dresshead.com
está cheia de peças incríveis, abrangendo vestidos de festa, biquínis, calças, shorts, blusas dos mais variados modelos e estilos e muito mais! As
calças jeans
estão com preços ótimos, lembrando que dá para combiná-las com a clássica camisa branca social! Não deixem de visitar o site, meninas, vale muito a pena!
...
Oh, I have a new thing for you! The online store
dresshead.com
is full of incredible pieces, covering party dresses, bikinis, pants, shorts, sweaters and t-shirts of the most varied models and styles and more! The
jeans pants
are at great prices, remembering that you can combine them with the classic social white shirt! Do not miss the site, girls, it's worth it!
E então, o que acharam do post? Comentem e opinem!
Bisousss!